I am amazed the whole interweb thing was able to still be operable after a month without Clipper putting a virtual pen to virtual paper in the form of Clipperona bicycle!
Ginger and I spent a nice, really quiet weekend in a cabin at Pickett State Park.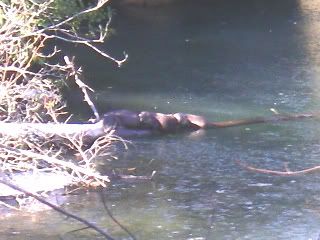 This picture (if you look real close) shows four otters in the lake behind our cabin.
Friday night was cold as hell. Most of the heat for the very drafty cabin was in the form of a fireplace.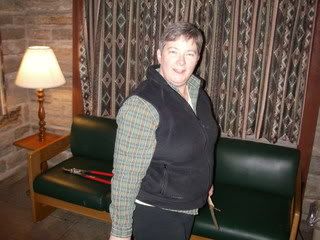 The lake was really pretty and had a couple of nice short hikes around it. There was even a natural bridge about a hundred yards from the cabin that the lake went under.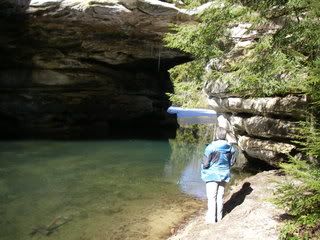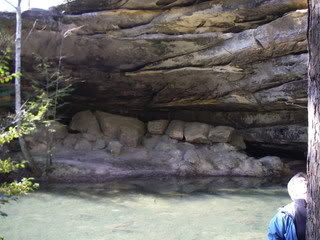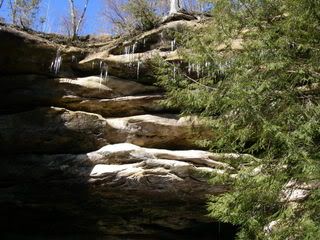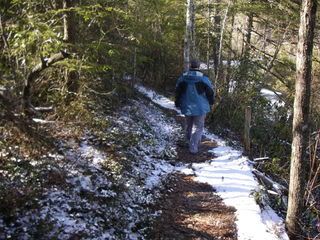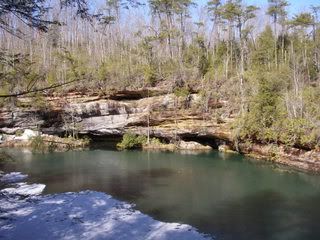 When the icycles falling into the lake spooked the otters, this is where they went to hide.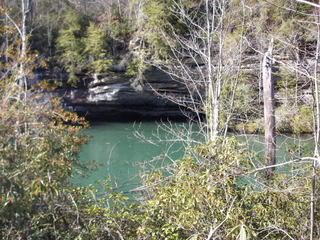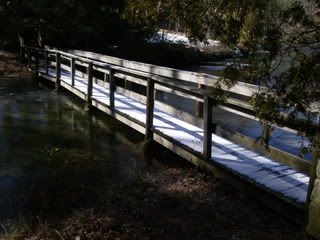 I raced the second leg of the Snake Creek Gap race last Sat. After my Jan. race I felt pretty good about putting up a good time for Feb. The conditions were dryer than I have ever ridden at the Snake. They were as "perfect" as I could imagine they could be.
I rode strong for about 20 of the 34 miles. The leg cramps started on the long downhill leading to all the creek crossings. I walked places that I would never thought anyone would have to walk. I had the worst leg cramps I have ever experienced. I guess the temperature going to 72* when I was used to 35* was part of it. Then again ot could have been that I had only ridden once in the last 2 weeks and was sick the week before the race. Now, 5 days later, my right calf still feels like it is cramping and I have these two marks that look mysteriously like a snake bite...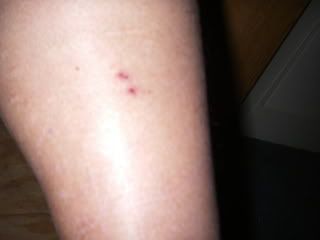 Finally, Brian and I took advantage of 4 days of dry, warm weather to try out the new Hard Labor Trail at Hastie last night. Hard Labor is really nice coming down from the Post Oak end. Going the other way will be a pretty good climb until we get some more tires on the trail to pack it in. We rode everything at Hastie with a minimun of mud and I think the Yellow Jacket trail may be my favorite. If you have been out there but don't know the trail names it is the one with the two bridges.
This is a shot of BHann running the new bermmed corner on Hard Labor.