Kevin Trent and I just got back from the White Lightning race at Land Between the Lakes near Benton, KY. I have been trying to do all the TBRA races this year with the hope of getting one of those cool circle and stars state champions jersey in the clydesdale class. Don't ask me why TBRA has a race in KY other than the Wood and Wave guys are big supporters of the series.
We had a great time despite the drive, 656 miles from Kevin's driveway to the race and back. Sat. was rainy and cold. Fortunately there was only a 2.3 mile time trial. If you are familiar with the Canal loop trail, we we counterclockwise from Scenic Dr(?) out to the "B" connector and back up the old road to Scenic. My time of 11:55 was good enough to win by only 3 seconds. The picture on the podium looks funny because the generator died that was blowing air into the Redbull balloon. I had to bend over standing on the step.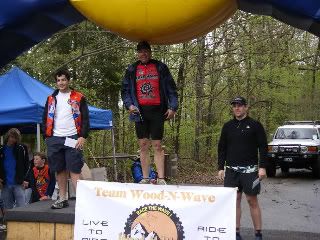 Sunday turned out beautiful. It was cool in the morning and warmed up to about 70* when we finished. I rode my new Salsa set up as a SS. I finished building it literally and hour before the TT on Sat. It did great and I was pleased with the ride.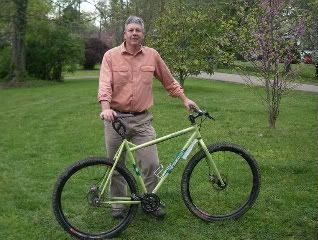 I had some trouble with mud flying in my eyes Saturday so I made a mud flap.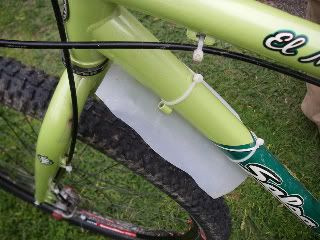 I got an OK start in 3rd and soon passed the two guys in front. Another guy came with me and he passed me about a third of the way into the first lap. He soon disappeared. I thought that if I just rode my race I could catch him. I rode mostly alone except for straggling sport rides I passed. Eventually I got into the beginners and passing all those peaple seemed to energize me. I starting attacking the hills. That is the only way I could get up them on my SS. At the top of the last big hill on the first half of the course I spotted the leader about 30 or so seconds ahead of me. I tried to steadily decrease the gap and was making progress until we came to a switchback and he spotted me and then he put down the hammer. If I had gears I might have made a run on this fast part of the trail but I don't think I would have been as fast on the hills. Oh well. I finished 30 or 45 seconds behind him and was glad to have someone to race against. Check out the podium shot. I'm not sure this guy makes 200 lbs. He might have been cherry picking.