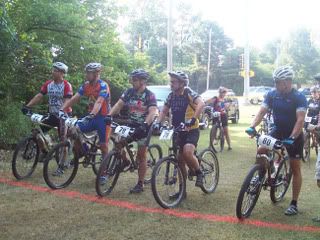 I did it again. I took the guy in front of me out in the Stanky Creek Race in Memphis this weekend. I really, really tried to miss him, no, really.
Shawn James(2nd from the left next to me) and I raced together wheel to wheel most of the day. Shawn is my buddy. We met at Land Between the Lakes in the parking lot and since I travel to that area quite a bit we ride together often. He is coming off rehab on a bum knee and is pretty much back to full strength.
We went off the front together and he led the 1st lap until I decided to press the issue towards the end of lap one. With the pace quickened, we opened up a bigger gap. Just at the start of the 2nd lap I lost my chain. Shawn went ahead and I spent the next 1/2 lap chasing him. I caught him about 1/2 way thru the 2nd lap. I got greedy and hit a tree and he opened a gap again. About 3/4 of the way thru the loop there is a long, flat wide section that can be as fast as you want it to be. Going in I saw Shawn up ahead. He looked back when I was about 100' behind. He looked like he was slowing a little. I put it in overdrive. I was thinking I could sneak (blow) by him on the right side. Just as I started around on the right, he looked left and then cut right in front of me. I was probable at around 22 or 23 mph and he was at about 13 or 14. I took the right side of his handle bar with me as I went by. He ended up about 20' into the woods.
I stopped. I ask him if he was OK. He said he was and to go on. I told him I was so sorry and that I surely didn't mean to crash him. I finished the rest of the race at a slower pace and Shawn finished 8 seconds behind me.
After the race He told me he knew I was coming and he was trying to get over but his left grip slipped off. When that happened he went to the right and right into me. "Rubbin is racing" indeed!
There are some more pictures, a video and some results posted here. http://www.stankycreek.com/
If you are in the Memphis area Stanky is definitely worth checking out. It is almost flat and twisty and parts of the trail are very fast. It is in Bartlett at exit 18 off I40. The trail is well marked and I don't think you could get lost if you tried. The race was 9.2 miles long and I think it covered pretty much all of the available trail.