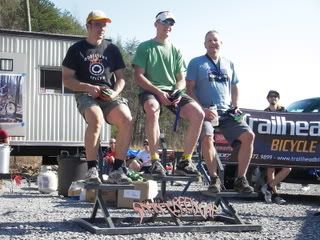 The last Snake Creek Gap time trial of the year was this past Saturday. The conditions were the best I have seen in the 7 or 8 times I have ridden there. It started off a little cool and misty from the fog and we finished in sunny 75*. The trail was dry and the tackiest I have ever seen. There was a nice cool breeze on top of the ridges and the course was staffed with lots of encouraging, smiling volunteers. Most of the volunteers even had cameras.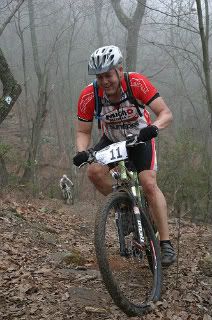 I told myself that I would pace myself and not go into race mode...but I just can't do it. When I'm lined up for a race and they say go, I have to go. The first half of the race went pretty well. I cramped pretty bad in Feb. and I tried to stay below "cramp stage". I rode a lot of the first half with Jaques.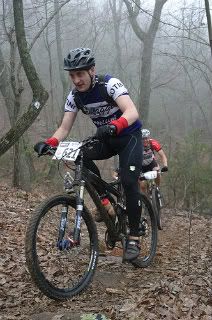 Somewhere around the last big downhill I lost contact with Jaques and I raced down the water barred/jump laden downhill just trying to hold on and having big fun. At the midpoint aid station I filled my camelback and ate a banana and a couple of fig newtons. Jaques came in as I was getting my chain lubed by one of the nice volunteers and he said I race-faced him. He spoke to me but I must have been trying to choke down fig newtons and couldn't talk.
Immediately after leaving the midpoint there is on of the biggest climbs on the course. I made the top and only got off once on a switchback. When I dismounted I saw another clydesdale coming behind me. I recognized him as the person just behind me in time. He goes by Big Chris on the SORBA forum. We ended up riding together for 45 minutes or an hour. I should have know I was in trouble when he told me he was starting to cramp. He dropped me right after that. While riding along drafting each other on the grassy fireroad Chris ask "what do you weigh?' I told him 227. He said " that's exactly what I weigh." Then I ask him how old he was. He told me 40. When I told him I was 53 he made my day by telling me "you're a bad muther f*cker!".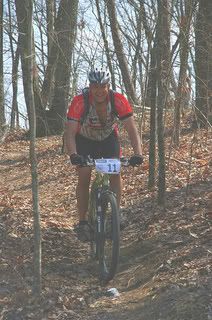 If you are looking for a reason to get or stay in shape next year, sign up for the Snake. For $75 or $85 you get a long sleev tee, a head badge, misc goodie and food at the end of all three stages. It might be the biggest bargain in mountain bike racing. Plus, the race is staffed by some of the nicest, most competent volunteers I've ever seen.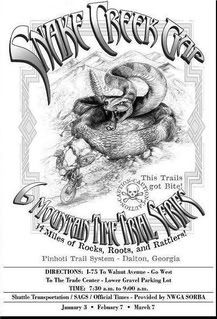 As I've said before, the folks at Northwest Georgia SORBA get it!