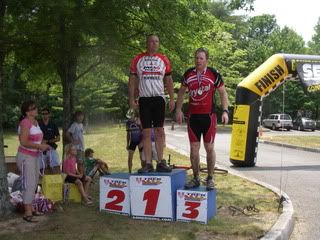 This picture is from 2 1/2 weeks ago. The Raccoon Mtn. race results are still not up. SERC who promoted the race posted their results the day after the race. Just for kicks, I checked the road race held Sunday. The results are up already. That just tells me TBRA really doesn't care about MTB racing.
Another example is that all state champions are listed on the club sites. However, only road race champions are listed, no MTB state champions are mentioned. Maybe it's time to consider something other than TBRA for MTB races...
On another subject, still no work. I have several resumes out there but everyone seems to be waiting to do any hiring. If you have had the opportunity to deal with unemployment you know what a fiasco that is. You can't get a person on the phone. When you get a recording it might tell you to call another recording. I understand there are a lot of people out of work but hell...I made the mistake of mis-entering my pin # to report in for benefits. Now I can't get it reset. Run around city.
I have done a lot of riding since I have not been working. I calculated that I rode 160 miles all off froad in a 2 week span. Rides include Big South Fork (twice), Raccoon Mtn. (twice) Dupont, Dirty South, Haw Ridge...